Kigali Convention Centre (KCC), officially launched in July 2016, is the leading conference venue in the region. KCC is a landmark on the city landscape, with its dome-shape exterior, akin to a traditional Rwandan king's palace. Modelled after a symbol of ancient Rwandan culture transposed into a striking modern architecture of the future, KCC is reflective of a nation on the rise.
KCC brings together, under one roof, the most advanced conferencing and exhibition technologies available today, covering 14,400 sqm of ultra-modern facilities. This enables the Centre to host conferences, exhibitions and special events of almost any kind, matched by dedicated, helpful, professional management and staff teams, who provide all the necessary support services. The 3-storey structure that is Kigali Convention Centre covers 32,000m², and was designed and built to provide convention, conference, meetings, exhibition and special event space across 2 main levels.
KCC's main building, comprising the dome and a number of venues of various sizes provides a multifunctional hall suitable for events of all types and sizes, whether you plan to host a small conference of 100 guests or a seated concert with 2,600 guests. The space has equal potential as a market, festival, and meeting and dining place for the city's residents and visitors. The translucent dome's impressive illuminations work is reflected from the exterior of the complex, wowing the whole city with its remarkable light show.
Known for its view and engaging staff, KCC is managed by Carlson Rezidor Hotel Group under the brand of Radisson Blu. The expansive glass frontage ensures that the main foyers and several meeting rooms enjoy excellent natural daylight, and the 3 ramps along with elevators provide efficient and easy access to all levels of the building. The building has been specifically designed to accommodate and provide access for disabled visitors. Adaptability, cutting-edge technology and a world-class range of facilities make Kigali Convention Centre the most versatile, accommodating and sophisticated venue in East Africa.
The flexibility of the venue and facilities allows for the staging of the most innovative multi-media, audio-visual and lighting productions or to deliver highly focused presentations to smaller or more selected audiences.
The ambience of the magnificent Auditorium is created partly by its vast, uninterrupted space and partly by the magnificent, wooden dress its walls. The auditorium is suitable for grand occasions such as a Conference, Conventions and large-scale meetings that accommodate 2,600 delegates in theatre-style seating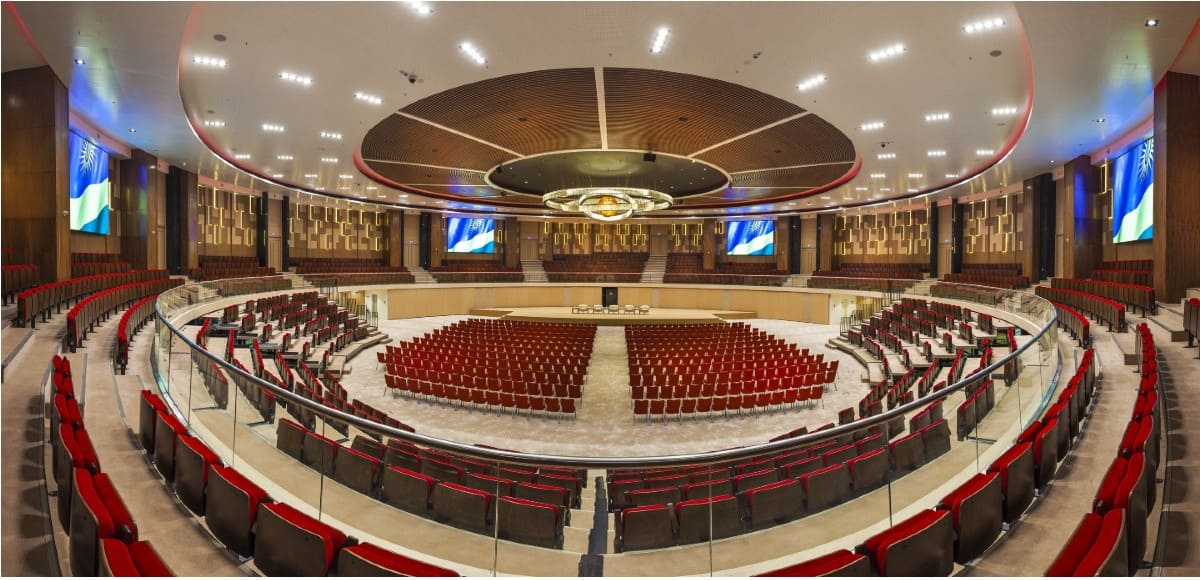 The ambience of the magnificent triple-volume Hall is created partly by its vast, uninterrupted space and partly by the magnificent, tapestries that dress its walls. The main banquet hall is suitable for grand occasions such as a formal dinner for up to 1,300 guests or a conference that can accommodate up to 2,000 delegates in cinema-style seating. This venue can be divided into few configurations because of the movable walls that are available in the Halls.
Kigali Convention Centre
KG2 Roundabout, Kimihurura Kigali- Rwanda
Radisson Blu Hotel & Convention Centre
Kimihurura Roundabout, Kigali.